Typhoon Angela (2052)
Category 5 super typhoon


Angela at peak intensity

---

Formed
January 9
Dissipated
January 19
Accumulated Cyclone Energy
17.321
Highest winds
125 mph
(10min)
Lowest pressure
899mb
Damages
12,600 million
Direct Fatalities
26
Indirect Fatalities
2
Missing
100
Areas affected
Guam, Micronesia.
Part of the
2052 Pacific typhoon season
Typhoon Angela (2052) of the 2052 Pacific typhoon season is the most powerful typhoon to exist so early in the year.
Meteorological history
Edit
In the opening days of the new year, a easterly wave formed to the south of the Hawaiian Islands. Several days after the wave formed.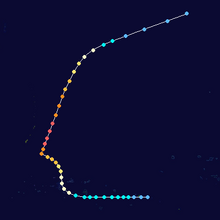 Ad blocker interference detected!
Wikia is a free-to-use site that makes money from advertising. We have a modified experience for viewers using ad blockers

Wikia is not accessible if you've made further modifications. Remove the custom ad blocker rule(s) and the page will load as expected.