Tropical Storm Fiona
Tropical storm (SSHS)
Fiona near peak intensity on August 17
Formed
August 16, 2016
Dissipated
August 18, 2016
Highest winds
1-minute sustained:
50 mph (85 km/h)
Lowest pressure
1004 mbar (hPa); 29.65 inHg
Fatalities
None reported
Damage
Minimal
Areas affected
Cape Verde Islands
Tropical Storm Fiona
was a weak and short-lived tropical cyclone that brought light rainfall to the Cape Verde Islands in mid-August 2016. Fiona was the sixth named storm of the active 2016 Atlantic hurricane season.
Meteorological History
Edit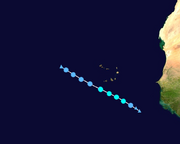 On August 14, the National Hurricane Center began monitoring a tropical wave emerging off the west coast of Africa. 5-day development chances at the time the system was introduced into the tropical weather outlook were low (20%), however, by the second TWO, they had rapidly increased to 50%. However, the wave began to rapidly develop as it emerged. An ASCAT pass revealing the presence of a closed circulation promoted the NHC to designate the tropical wave Tropical Depression Six at 03:00 UTC on August 16. 6 hours later, Six strengthened into Tropical Storm Fiona. Fiona then acquired a brief peak intensity with maximum sustained winds of 50 mph on August 17 while located southeast of Cape Verde. However, a combination of factors including increasing wind shear, dry air, and marginal sea surface temperatures caused Fiona to begin weakening. Just 12 hours after its peak, Fiona weakened to a tropical depression. Fiona brought light rain showers to the Cape Verde Islands as a weakening tropical storm as it passed to the southwest of the islands. On August 18, the sheared cyclone became devoid of deep convection and at 09:00 UTC on August 18, Fiona degenerated into a remnant low.
Ad blocker interference detected!
Wikia is a free-to-use site that makes money from advertising. We have a modified experience for viewers using ad blockers

Wikia is not accessible if you've made further modifications. Remove the custom ad blocker rule(s) and the page will load as expected.