Tropical Storm Earl
Tropical storm (SSHS)
Earl near peak intensity on August 3
Formed
August 2, 2016
Dissipated
August 5, 2016
Highest winds
1-minute sustained:
65 mph (100 km/h)
Lowest pressure
997 mbar (hPa); 29.44 inHg
Fatalities
12 total
Damage
$200 million (2016 USD)
Areas affected
Lesser Antilles, Hispaniola, Jamaica, Cayman Islands, Yucatan Peninsula, Veracruz
Part of the 2016 Atlantic hurricane season
Tropical Storm Earl
brought heavy rains to the Yucatan Peninsula and Mexico in August 2016. It was the fifth named storm of the 2016 Atlantic hurricane season. It developed from a tropical wave in the central Caribbean Sea and eventually made landfall in the southern Yucatan Peninsula, before later emerging into the Bay of Campeche and making a second landfall in Veracruz. Earl was the first tropical cyclone to form in the Caribbean Sea since Tropical Storm Barry in June 2013.
Meteorological History
Edit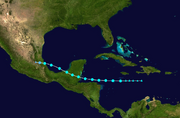 On July 28, the National Hurricane Center noted the possibility of a westward moving tropical wave developing into a tropical cyclone. This tropical wave was designated Invest 97L. Initially, the wave struggled to develop due to strong trade winds not allowing the cyclone to form a circulation. Organization of the wave improved on July 31, but a closed circulation still struggled to form. After a Hurricane Hunters reconaissance aircraft identified that the circulation of 97L closed off, the disturbance was classified as a tropical storm at 15:00 UTC on August 2, receiving the name Earl. The cyclone already had maximum sustained winds of 50 mph when it formed into a tropical cyclone. Earl then intensified the next day to its peak intensity, with maximum sustained winds of 65 mph and a minimum pressure of 997 millibars. Earl then made landfall early on August 4 in the Yucatan Peninsula. Earl then moved northwestward and emerged into the Bay of Campeche where it acquired a secondary peak intensity with maximum sustained winds near 60 mph. Earl then dissipated late on August 5 as it made its second landfall in Veracruz.
Earl caused a total of 12 fatalities, 6 of which occurred before the system was named as a tropical cyclone. Damage was estimated at $200 million.