This page documents notable tornadoes and tornado outbreaks worldwide in 2015. Strong and destructive tornadoes form most frequently in the United States, Bangladesh, and Eastern India, but they can occur almost anywhere under the right conditions. Tornadoes also develop occasionally in southern Canada during the Northern Hemisphere's summer and somewhat regularly at other times of the year across Europe, Asia, and Australia. Tornadic events are often accompanied with other forms of severe weather including strong thunderstorms, winds and hail.
There have been 1,104 tornadoes reported in the United States in 2015 according to the Storm Prediction Center (SPC), of which at least 911 have been confirmed. Worldwide, 492 fatalities have been reported in 2015: 442 in China, 14 in Mexico, 30 in the United States, three in Myanmar, two in Brazil, and one in Italy.
Throughout early 2015, tornado activity has been near record low mostly due to a continuous pattern of a trough in the east, which has brought colder than average temperatures there, and a ridge in the west, which has brought warmer than average temperatures in the west. The pattern changed,in late March and April to allow for severe weather to develop, and a continuous string of severe weather continued though May. June, July and September experinced quiter-than-normal conditions, However, by the start of the November the pattern began to reverse itself, and moist, unstable air once again flowed northward from the Gulf of Mexico (a pattern normally reserved for spring) and combined with a series of strong low pressure systems tracking across the country, conditions were present for tornado formation,Including the two massive deadly (November 2-4, 2015 tornado outbreak & November 20-22, 2015 tornado outbreak) Tornado outbreaks in November and December.[1][2]
United States yearly total
Edit
Unofficial totals through June 24 Template:Tornado Chart
Note: 4 tornadoes on May 6, 1 tornado on May 14, and 17 tornadoes on May 16 have been confirmed but are currently unrated.
Template:See also There were 32 tornadoes reported in the U.S. in January, of which 27 were confirmed.
January 3–4
Edit
| EF0 | EF1 | EF2 | EF3 | EF4 | EF5 |
| --- | --- | --- | --- | --- | --- |
| 11 | 14 | 2 | 0 | 0 | 0 |
On January 1, the Storm Prediction Center (SPC) began highlighting the potential for severe weather across portions of the central Gulf Coast and lower Mississippi Valley.[3] The following day, the pre-existing Marginal risk was upgraded to a Slight risk across southeastern Louisiana, southeastern Mississippi, and southwestern Alabama.[4] On January 3, the combination of high dewpoints, marginal instability, and strong wind shear allowed for the development of supercells across central and southern Mississippi, where an Enhanced risk was briefly introduced.[5] An EF2 tornado touched down west of Rose Hill, Mississippi, causing significant damage, while several other tornadoes were recorded. Activity spread eastward on January 4, with a second EF2 tornado causing substantial damage north of Dozier, Alabama.
Template:See also There were 2 tornadoes reported in the U.S. in February, both of which were confirmed.
Template:See also There were 15 tornadoes reported in the U.S. in March, of which at least 8 were confirmed.
March 24–25
Edit
| EF0 | EF1 | EF2 | EF3 | EF4 | EF5 |
| --- | --- | --- | --- | --- | --- |
| 5 | 1 | 2 | 0 | 0 | 0 |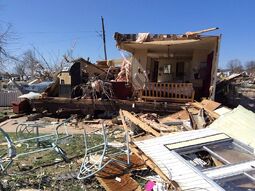 Early on March 24, the SPC outlined an Enhanced risk for severe weather across portions of southwestern Missouri, northwestern Arkansas, and northeastern Oklahoma, where conditions were expected to become favorable for strong supercells.[6] That afternoon, a waterspout over Bull Shoals Lake moved ashore as an EF0 tornado but caused no damage. Numerous reports of damaging winds and hail were relayed.[7] On March 25, a more substantial severe weather risk evolved across southwestern Missouri, northwestern Arkansas, and northeastern Oklahoma, where the SPC outlined the year's first Moderate risk.[8] At 22:21 UTC, a waterspout developed over Keystone Lake and moved through Sand Springs, Oklahoma, causing EF2 damage in a mobile home park where one fatality and 30 injuries were observed.[9] At 23:34 UTC, a second EF2 tornado developed and tracked through southwestern Oklahoma City, Oklahoma before entering Moore. Several structures sustained substantial damage, and several cars were flipped and overturned on Interstate 35.[10] Additional tornadoes touched down in adjacent states.[11]
Template:See also There were 204 tornadoes reported in the U.S. in April, of which at least 117 were confirmed.
April 2 (India)
Edit
On April 2, tornado of unknown strength struck the city of Bikaner in Rajasthan, India. At least 50 families were displaced by the storm.[12]
April 2–3
Edit
| EF0 | EF1 | EF2 | EF3 | EF4 | EF5 |
| --- | --- | --- | --- | --- | --- |
| 8 | 6 | 1 | 0 | 0 | 0 |
On April 2, upper-level southwesterly flow overspread the Ozarks and Ohio River Valley, where an Enhanced risk for severe weather was introduced by the SPC. A surface low tracked into Ontario, supporting a cold front down into southern Missouri. Throughout the afternoon hours, a shortwave trough tracked across the Central Plains, providing ample lift for the development of severe thunderstorms.[13] Several weak tornadoes were recorded. On April 3, the Enhanced risk shifted southeast, encompassing portions of Kentucky, Tennessee, Mississippi, and Alabama.[14] An EF2 tornado tracked north of Pomona, Missouri in the pre-dawn hours, damaging or destroying several buildings.[15] Several tornadoes of lesser intensity were observed farther east.
April 6 (Myanmar)
Edit
On April 6, three people were killed and five others were injured when a tornado struck two villages within Phakant, Kachin State, Myanmar.[16]
April 8–9
Edit
| EF0 | EF1 | EF2 | EF3 | EF4 | EF5 |
| --- | --- | --- | --- | --- | --- |
| 9 | 9 | 1 | 0 | 1 | 0 |
A two-day severe weather episode affected parts of the Great Plains and Midwestern United States. Several EF0 tornadoes occurred on April 8 in the south central part of Kansas, including some to the northwest of Wichita, Kansas, near the towns of Garden Plain and Andale. An EF1 tornado caused moderate damage as it struck the town of Potosi, Missouri that evening as well. Several tornadoes were also reported from Texas to Illinois on April 9.[17] A multiple-vortex EF1 tornado struck the towns of Clinton, Iowa and Fulton, Illinois, and an EF2 tornado near Mount Selman, Texas snapped and uprooted numerous trees, damaged outbuildings, and removed the roof and collapsed a few exterior walls at a frame home.[18]
The most significant event of the outbreak was a violent, long-tracked, very high-end EF4 wedge tornado that moved along a 30.2 mile-long path across several counties in northern Illinois, killing two people and injuring another 22. The tornado began as a small cone-shaped tornado, causing mostly minor damage near Franklin Grove and Ashton, though a Kraft Foods plant sustained considerable damage. The tornado became large and violent as it struck a semi-rural subdivision west of Rochelle, where some ground scouring occurred and large, anchor-bolted homes were swept away (though several contextual discrepancies prevented a rating higher than EF4, as vehicles parked at these homes were not thrown long distances or mangled, and shrubs planted next to the homes were not shredded or debarked). Winds in this area were estimated to have reached 200 MPH, the very upper limit of the EF4 range.[18][19] The tornado briefly weakened to EF2 strength as it passed between Hillcrest and Kings, damaging several farmsteads before reaching EF4 intensity once again as it crossed Illinois Route 64, where a row of five homes was obliterated, along with a nearby farmstead. Extensive wind-rowing of debris occurred in nearby fields, and vehicles were tossed. A large restaurant was destroyed by EF3 level winds in this area as well.[18][20] The tornado then weakened, causing EF1 to EF2 damage to a warehouse structure, outbuildings, and numerous trees as it passed south of Lindenwood. East of Lindenwood, further weakening occurred as the tornado damaged homes and outbuildings at EF1 strength, and a brief EF0 satellite tornado was observed. The tornado re-intensified to high-end EF3 strength as it devastated the small town of Fairdale, where the two fatalities occurred. Every structure in town sustained some type of damage, and multiple poorly anchored homes were leveled and swept away. Intense cycloidal marks were observed in farm fields outside of town.[19] Past Fairdale, the tornado produced EF2 and EF3 damage as large barns were destroyed, a house lost its second floor and sustained collapse of exterior walls on the first floor, and large hardwood trees were denuded and sustained some debarking before the tornado dissipated northwest of Kirkland. An EF0 satellite tornado also caused major damage to outbuildings at the Summerfield Zoo near Belvidere, where two animals were killed. Two other EF1 tornadoes from the same parent supercell also occurred near Belvidere after the main EF4 dissipated, causing mostly minor damage, though one home lost most of its roof. Another tornado spawned by a separate supercell passed near Cherry Valley, though it remained over open country and caused no damage.[18] Overall, this relatively small outbreak produced 2 fatalities and 22 tornadoes, three of which have yet to be rated.
April 20 (Brazil)
Edit
| F0 | F1 | F2 | F3 | F4 | F5 |
| --- | --- | --- | --- | --- | --- |
| 1 | 1 | 1 | 0 | 0 | 0 |
A long-tracked, rain-wrapped F2 wedge tornado spawned by a supercell thunderstorm struck the city of Xanxerê, Santa Catarina in Brazil during the afternoon of April 20.[21] Approximately 500 homes were damaged in the city, many of which lost their roofs and some were destroyed. Many trees and power lines were downed, and industrial buildings sustained major damage as well. Two people lost their lives. Additionally, 120 people were injured, 15 critically. The meteorological consulting agency MetSul Meteorologia stated it was one of the largest tornadoes ever recorded in Brazil.[22] Roughly 1,000 people were forced out of their homes due to the storm.[21] The city of Ponte Serrada was struck by an F1 tornado on the same day, and the city of Passos Maia was struck by an F0 tornado as well (though some meteorologists speculate that the tornado that hit Xanxerê was the same one that struck Ponte Serrada).
Template:See also There were 458 tornadoes reported in the U.S. in May, of which at least 188 were confirmed.
May 5 (Germany)
Edit
An F3 tornado hit the German town of Bützow, Mecklenburg-Vorpommern, causing major structural damage, littering streets with debris, and flipping vehicles. Straight-line thunderstorm winds killed one person and injured 30 others in Hamburg. This event followed an episode of unusually warm weather in the area. [23][24]
Main article: May 5–10, 2015 tornado outbreak sequence
| EF0 | EF1 | EF2 | EF3 | EF4 | EF5 |
| --- | --- | --- | --- | --- | --- |
| 26 | 16 | 7 | 6 | 0 | 0 |
A six-day outbreak of tornado activity began on May 5 with isolated tornadoes in western Texas.[25] More widespread and significant activity occurred on May 6. Much of central Oklahoma experienced tornadoes, and the town of Bridge Creek sustained major impacts from a large EF3 tornado, where several businesses and homes were heavily damaged or destroyed. Another EF3 tornado caused major damage in southwestern parts of Oklahoma City, just north of Valley Brook, where a hotel, several self-storage units, a mobile home park, and an RV park were heavily damaged, numerous vehicles were flipped, and at least 12 people were injured. Large, strong tornadoes (including two EF3s) severely damaged or completely destroyed rural homes near the Kansas towns of Mount Hope, Scandia, and Munden. Several additional less intense tornadoes occurred on May 7 and May 8 across an area extending from Colorado to Texas. Another wave of significant tornado activity occurred on May 9 throughout an area extending from Nebraska to Texas.[26] This included a large EF3 tornado that caused major damage and killed one person near Cisco, Texas.[27] Destructive tornado activity continued on May 10, as a high-end EF2 tornado struck the town of Delmont, South Dakota, where severe structural damage and multiple injuries occurred. Later that evening, a multiple-vortex EF1 tornado struck Lake City, Iowa, where homes were damaged, trees and power lines were downed, and the local high school had its roof torn off.[28] Significant tornadoes continued to touch down after sunset later that night, and the town of Van, Texas was devastated by a strong EF3 tornado, where two people were killed and 47 others were injured. Two other fatalities occurred in Nashville, Arkansas when an EF2 tornado struck a mobile home park.[29] So far, at least 55 tornadoes have been confirmed and rated as a result of this outbreak sequence.[30][31]
May 13–14 (Germany)
Edit
One F3 tornado which caused severe damage to many buildings was confirmed in the district of Aichach-Friedberg north of Augsburg, Bavaria [32][33][34] Two more tornadoes were confirmed in the southern part of the Black Forest, Baden-Württemberg.[35][36]
May 23–25
Edit
Main article: 2015 Texas–Oklahoma flood and tornado outbreak
| EF0 | EF1 | EF2 | EF3 | EF4 | EF5 |
| --- | --- | --- | --- | --- | --- |
| 9 | 30 | 5 | 0 | 0 | 0 |
| F0 | F1 | F2 | F3 | F4 | F5 |
| --- | --- | --- | --- | --- | --- |
| 0 | 0 | 0 | 1 | 0 | 0 |
A large storm system that resulted in catastrophic flooding produced numerous tornadoes across the Great Plains on May 23 and 24. Most of these tornadoes were weak, though EF2s caused considerable damage near New Boston, Illinois and Ensign, Kansas. In Texas, EF1 tornadoes impacted mainly residential areas of Dallas, Houston, and Corpus Christi as well. In the early morning hours of May 25, a destructive tornado struck the Mexican border city of Ciudad Acuña, Coahuila;[37] it was the first twister to strike the city in its history. Numerous cars and buses were thrown and mangled, and 750 properties were damaged or completely destroyed. Several masonry construction homes along the path were completely leveled. 14 fatalities occurred as a result, and an additional 229 residents were injured. The tornado was officially rated F3, though some sources list it as an F4.[38][39] Additional tornadoes, a few of which were strong, touched down in Texas later throughout the day. This included an EF2 that killed one person near Cameron, Texas. Another EF2 struck Henderson, causing considerable damage in town. In Oklahoma, an EF2 caused heavy damage near the towns of Wister and Panama.[40]
Template:See also There have been 133 tornadoes reported in the U.S. in June, of which at least 84 have been confirmed.
June 1 (China)
Edit
Main article: Sinking of Dong Fang Zhi Xing
A stalled out frontal boundary over southern China produced several days of severe weather. On June 1, a supercell storm spawned an EF1 tornado, estimated to be Template:Convert wide, in Hubei Province, China, near the Yangtze River. While crossing the river, it struck the cruise ship Dong Fang Zhi Xing and caused it to capsize. At the time, 454 people were aboard the vessel. On June 13, 442 fatalities were confirmed with only 12 people rescued.[41]
June 22–23
Edit
| EF0 | EF1 | EF2 | EF3 | EF4 | EF5 |
| --- | --- | --- | --- | --- | --- |
| 5 | 12 | 3 | 2 | 0 | 0 |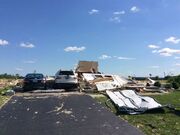 A relatively small but damaging outbreak of strong tornadoes impacted the Great Lakes region of the United States from June 22 to June 23. The most significant activity occurred on the 22nd, including a high-end EF1 tornado that damaged numerous structures in Portland, Michigan early that afternoon.[42] Later that evening, a strong, rain-wrapped EF3 partially debarked trees and leveled a poorly anchored house near Lovilia, Iowa before weakening and striking the town of Albia at EF1 strength.[43][44] As the evening progressed, numerous tornadoes began touching down across northern Illinois and in Michigan as well. An EF2 struck the south side of Edgington, Illinois, tearing roofs off of homes, destroying garages, and snapping large trees.[45] Another large EF2 wedge tornado caused major damage at the Woodhaven Lakes Campground near Sublette, flattening a large swath of trees, destroying or tossing numerous recreational vehicles and mobile homes, and injuring seven people.[46] In Michigan, an EF2 tornado severely damaged two homes and downed numerous trees near the town of Millington.[47] The strongest and most destructive tornado of the outbreak initially touched down after dark as a weak tornado south of Morris, Illinois, causing roof and chimney damage to homes, and downing trees and power poles as it moved along a southeasterly path. The storm intensified and widened rapidly as it entered Coal City, reaching nearly a mile wide in diameter and attaining high-end EF3 strength. Numerous anchor-bolted frame homes in Coal City were damaged or destroyed, and a few were leveled or swept from their foundations (though vehicles parked at these residences were not moved, and nearby vegetation was not defoliated or debarked, precluding a higher rating). Two large high-tension metal truss towers were toppled to the ground in Coal City as well.[48] The tornado weakened to EF2 strength as it struck the neighboring town of Braidwood, heavily damaging trees, power poles, and a motel in the southwestern part of town. The tornado moved out of Braidwood and maintained EF2 strength as it continued along its southeasterly path through rural areas, rolling a recreational vehicle, damaging the roof of a frame home, snapping numerous power poles, and completely destroying an outbuilding before dissipating.[48] The outbreak continued the following day as a few weak tornadoes were observed in Michigan, Ohio, and Massachusetts. Overall, this outbreak produced 22 tornadoes, though no fatalities occurred.[49]
Template:See also There have been 50 tornadoes reported in the U.S. in July, of which at least 25 have been confirmed.
July 8 (Italy)
Edit
| EF0 | EF1 | EF2 | EF3 | EF4 | EF5 |
| --- | --- | --- | --- | --- | --- |
| 0 | 0 | 0 | 0 | 1 | 0 |
An EF4[50] tornado impacted areas in and around the towns of Pianiga, Dolo and Mira, causing major damage and several casualties within the Riviera del Brenta region of Italy, famous for its villas and channels. About 500 buildings were badly damaged or destroyed,[51] and among them was the large, two-story, masonry construction Villa Fini restaurant and hotel from the XVII century, which was almost entirely leveled to the ground.[52] Many trees were defoliated, snapped, and partially debarked, and numerous cars were tossed and damaged, a few of which were thrown into canals and submerged. As the tornado impacted rural areas, farmsteads were severely damaged, metal high-tension truss towers were toppled to the ground, and agricultural fields were scoured.[53][54] One person was killed, and at least 72 people were injured.[55][56][57]
| EF0 | EF1 | EF2 | EF3 | EF4 | EF5 |
| --- | --- | --- | --- | --- | --- |
| 2 | 3 | 3 | 0 | 0 | 0 |
A localized outbreak of eight tornadoes impacted Iowa and Illinois on the evening of July 16. A few of these tornadoes caused significant damage to towns, including a large multiple-vortex EF2 that passed near the Illinois town of Monmouth and struck the nearby town of Cameron. Homes in Cameron had their roofs ripped off, large grain bins were destroyed, and trees were snapped as well.[58][59] The most significant tornado of the event was a damaging EF2 that that heavily damaged numerous homes, completely destroyed many garages and outbuildings, and snapped numerous trees in the southern part of Delavan, Illinois. Some homes had their roofs torn off, and one had it's entire second story ripped off. In total, the Delavan tornado damaged 51 homes in town, 15 of which sustained major impacts. The tornado developed and dissipated so quickly that a tornado warning was never issued.[60][61]
July 27 (Manitoba)
Edit
A long-tracked, multiple-vortex wedge tornado that was spawned by an isolated supercell thunderstorm tracked at least 80 kilometers across southern Manitoba for up to 3 hours, making it one of the longest-tracked, if not the longest tracked tornado in Canadian history. The tornado moved along a sharp northeasterly path, remaining over very rural areas as it passed near the towns of Pierson, Melita, Tilston, Reston, and Virden. Very few structures were impacted in this sparsely populated area, though a few farmsteads sustained some damage. Numerous trees and power poles sustained major damage along the path, and asphalt was scoured from a highway bridge near Melita. No injuries occurred as a result of this tornado. Due to the rural nature of the affected area, no significant damage occurred, and the tornado could not be rated higher than high-end EF2. [62][63][64]
There were 174 tornadoes reported in the U.S. in November of which 157 were confirmed.
November 2-4Edit
November 12-14
Edit
November 20-22Edit
The November 2015 tornado outbreak will be a massive three-day tornado outbreak that will strike large parts of the Deep South on November 20–22. This exceptionally long lasting and geographically large outbreak would produce over $800 million in damage, along with 156 deaths and 1,238 injuries in Alabama, Georgia, Mississippi, Louisiana, Arkansas, North Carolina, South Carolina, Tennessee, Texas, and Florida. The outbreak, with 41 continual hours of tornado activity, was one of the longest-lasting and largest fall tornado outbreaks in the U.S. Published studies of this outbreak report widely varying numbers of confirmed tornadoes.
November 30- December 1
Edit
Another system tracked across the Deep South beginning late on November 30 and continuing into December 1. 23 tornadoes took place embedded in a serial derecho which hit the region hard with Template:Convert winds.
There were 85 tornadoes reported in the U.S. in December, of which 82 were confirmed.
December 14-15
Edit
December 24-26Edit
Ad blocker interference detected!
Wikia is a free-to-use site that makes money from advertising. We have a modified experience for viewers using ad blockers

Wikia is not accessible if you've made further modifications. Remove the custom ad blocker rule(s) and the page will load as expected.