Hypercane Bailey was the strongest, deadliest and costliest hurricane in the 2092 Atlantic hurricane season. It caused many problems throughout the U.S, as 4.9 million people were without power, and it took a year to get the power back up.
Retirement
Edit
Due to massive damage and deaths, the name Bailey was retired and will never be used for another Atlantic hurricane again. The name Brian was used to replace Bailey for the 2098 season.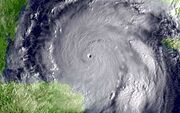 Ad blocker interference detected!
Wikia is a free-to-use site that makes money from advertising. We have a modified experience for viewers using ad blockers

Wikia is not accessible if you've made further modifications. Remove the custom ad blocker rule(s) and the page will load as expected.