Hurricane Travis (2817)
Category 5 Hurricane


Hurricane Travis at peak intensity nearing Boston, Massachusetts

---

Formed
October 9
Dissipated
November 23
Accumulated Cyclone Energy
103.9
Highest winds
220 MPH
(MPH)
Lowest pressure
859
Damages
$972.827 billion (2016 Wikipedia:United States Dollar|USD]])
Direct Fatalities
843,914
Indirect Fatalities
12,848
Missing
493,325
Areas affected
Most of the north Atlantic, Central America, the United States, the Caribbean, Columbia, Venezuela, Mexico, Canada
Part of the
2817 Atlantic Hurricane Season, 2817 Pacific Hurricane Season
Hurricane Travis was an extremely rare category 5 hurricane that affected most of the North Atlantic and East Pacific basins. It killed 850,000 and injured millions. It caused just under $600 billion in damages.
The Storm
Edit
Hurricane Travis was an extremely rare hurricane that formed mainly because of global warming. It effected most of the ca an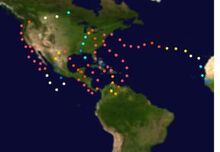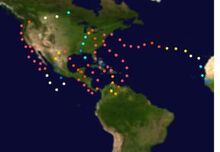 Ad blocker interference detected!
Wikia is a free-to-use site that makes money from advertising. We have a modified experience for viewers using ad blockers

Wikia is not accessible if you've made further modifications. Remove the custom ad blocker rule(s) and the page will load as expected.