Hurricane Matthew was the deadlist and most destructive hurricane of the 2016 season,as well the 13th named storm the 5th hurricane and the 2nd major.
Hurricane Matthew (2016)-Doug's prediction
Matthew at peak intensity
Formed
September 28
Dissipated
October 16
Highest winds
Gusts:
295 km/h (185 mph)
Lowest pressure
965 hPa (mbar)
Fatalities
20,000
Damage
$13 billion (2016 Atlantic hurricane season USD)
Areas affected
Grenanda,Jaima,Cuba,US East Coast (North Carolina,New Jersey)
Part of the 2016 Atlantic hurricane season
Metoralgical History
Edit
during late September a invest formed gradually organized into TS Matthew,Matthew of the course of 2 days rapidly intensified into a hurricane Matthew later that day became a category 3 hurricane before making a landfall in Cuba. And weakening,into a category 2 after leaving Cuba Matthew restrengthend and then as it passed through the Bahamas it became a category 4 and later became a category 5 and made landfall in the Outerbanks.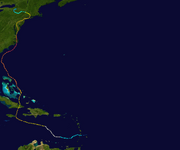 Retirement
Edit
In spring of 2017 the WMO retired the name Matthew due to the deaths and damage it caused,the name will never be used in the Atlantic ever again the name Matthew was replaced by Meorge for 2022.