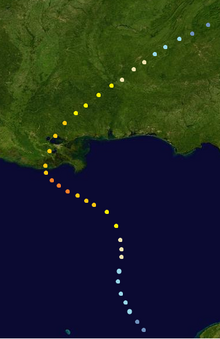 Hurricane Maggie started off as a tropical depression that had a slight struggle to strengthen.It then became a tropical Storm and it was officially Named by the NHC Maggie.From there Maggie quickly strengthened to a cat.1 hurricane.Warnings were then issued by the NHC on August 15th stretching from Pensacola,Florida to Galveston,Texas.36 hours later Maggie made landfall as a Cat.3 hurricane. 3 days later Maggie dissipated killing 965 people and injuring 4,036.Damage from the storm was 88.6 billion dollars in damages.Flooding across Louisiana continued for 10 days before water levels were at regular levels.
Ad blocker interference detected!
Wikia is a free-to-use site that makes money from advertising. We have a modified experience for viewers using ad blockers

Wikia is not accessible if you've made further modifications. Remove the custom ad blocker rule(s) and the page will load as expected.