Hurricane Laura
Category 4 major hurricane (SSHWS)


Laura shortly before becoming a category 4 hurricane

---

Formed
July 27, 2020
Dissipated
August 4, 2020
Highest winds
130 mph
(1-minute sustained)
Lowest pressure
951 mbar
Damages
$10 million (2020 USD)
Fatalities
2 total
Areas affected
Mexico, United States East Coast, Atlantic Canada
Part of the
2020 Atlantic hurricane season
Hurricane Laura
was an unusual category 4 hurricane in the 2020 Atlantic hurricane season. It formed from the remnants of Tropical Depression Four-E in the Pacific in the Bay of Campeche and took on an unusual northeastward track towards the Big Bend of Florida, eventually curving out to the Gulf Stream, which allowed Laura to strengthen into a low-end category 4 hurricane. Laura was one of the northernmost category 4 Atlantic hurricanes on record.
Meteorological History
Edit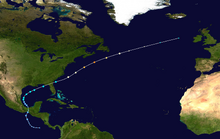 On July 26, the National Hurricane Center began monitoring the possibility of tropical development in the Eastern Pacific with a developing area of showers and thunderstorms. This area developed off the coast of Southern Mexico into Tropical Depression Four-E two days later. The depression only lasted 18 hours, as land interaction caused the depression to degenerate into a remnant low at 15:00 UTC on July 29. However, the remnants of Four-E were steered into the Bay of Campeche. Due to light wind shear and warm waters of 86 degrees Fahrenheit, convection increased near the center, resulting in the classification of Tropical Depression Thirteen at 09:00 UTC on July 30. The depression was nearly stationary in the Bay of Campeche and initially struggled to intensify. Nonetheless, the depression developed into Tropical Storm Laura early on July 31. Due to a ridge of High Pressure stationary over Texas, the tropical storm was pushed to the northeast, an unusual track for storms coming out of the Bay of Campeche, which usually track westward. Increasing wind shear limited the development of the tropical storm, which took on a disorganized appearance. Winds struggled to intensify past 50 mph due to the strong shear.
Late on August 1, Laura made landfall in Florida's Big Bend area, close to where Tropical Storm Colin made landfall in June 2016. Forecasters at the National Hurricane Center initially expected Laura to turn extratropical over the western Atlantic due to rapid motion. Due to warm waters of the Gulf Stream, Laura unexpectedly intensified into a category 1 hurricane on August 2. Positioned in an area with no wind shear and record-warm water temperatures, Laura underwent rapid intensification, intensifying into a category 4 hurricane on August 3 - becoming one of the northernmost Atlantic category 4 hurricanes on record. Cooling water temperatures caused rapid weakening to begin immediately after this peak, with Laura being downgraded to a category 2 hurricane later that day. On August 5, Laura transitioned into an extratropical cyclone while still producing hurricane-force winds.
Ad blocker interference detected!
Wikia is a free-to-use site that makes money from advertising. We have a modified experience for viewers using ad blockers

Wikia is not accessible if you've made further modifications. Remove the custom ad blocker rule(s) and the page will load as expected.