Hurricane Iselle
Category 3 major hurricane (SSHS)


Hurricane Iselle on September 5

---

Formed
August 31, 2026
Dissipated
September 13, 2026 (extratropical after September 11)
Accumulated Cyclone Energy
16.20
Highest winds
125 mph
(1-minute sustained)
Lowest pressure
952 mbar
Damages
$1 billion
Direct Fatalities
23
Indirect Fatalities
9
Missing
1
Areas affected
Central America (Honduras, Guatemala), Yucatan Peninsula, United States East Coast (Florida)
Part of the
2020 Atlantic Hurricane Season and 2020 Pacific Hurricane Season
Hurricane Iselle was an unusual southern-forming Pacific-Atlantic crossover hurricane that made landfall in Florida.
Meteorological History
Edit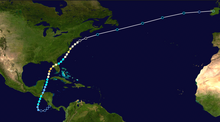 On August 29, 2020, an area of low pressure formed south of Central America. The system moved very slowly as it gained a closed circulation. On August 31, the NHC named the system Tropical Storm Iselle. Late on September 1, Iselle peaked as a Pacific storm with winds of 65 mph and a pressure of 996 millibars. Iselle then weakened to a Tropical Depression while crossing over central America on September 2, before entering the Atlantic on September 3 while still a depression. On September 5, Iselle entered rapid deepening, becoming a Category 3 hurricane 24 hours after being a tropical storm. Iselle peaked with 125 winds and slowly moved northward. Iselle then started to turn northeastward, making landfall near Tampa, Florida as a Category 2 hurricane on September 7. Iselle caused winds of up to 85 mph throughout Florida, as well as 30 fatalities. Iselle then moved up the East Coast, brushing the Outer Banks, as well as causing increased seas that caused a fatality. Iselle became extratropical on September 11. The remnants of Iselle hit Ireland on September 13, causing a fatality.
The name Iselle was not retired, but the storm caused over $1 billion in damage and 32 total deaths. NC Highway 12 in the Outer Banks was partially destroyed by the storm.
Ad blocker interference detected!
Wikia is a free-to-use site that makes money from advertising. We have a modified experience for viewers using ad blockers

Wikia is not accessible if you've made further modifications. Remove the custom ad blocker rule(s) and the page will load as expected.