Hurricane Hanna was a powerful and destructive tropical cyclone that wrought extensive damage from its trek from the western coast of Africa to Quebec.
Meteorological history
Edit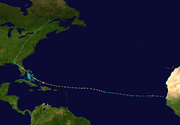 Preparations
Edit
Cape Verde Islands
Edit
From August 14–16, the precursor tropical depression to Hanna brought moderate rainfall and gusts across the Cape Verde Islands. The rains were primarily beneficial, and no damage was reported. However, minor flooding in localized areas resulted from some of the rains. Winds and precipitation peaked at a station in Sal Rei, where a peak gust of 57 mph (92 km/h) within a squall was documented. The same squalls and thunderstorms brought 2.21 in (56 mm) of rain to the area. To the south, in Praia, a station recorded 1.23 in (31 mm) of precipitation. The rains were highly beneficial to the cassava crops on the island. However, they were less so to the corn crop, which sustained some damage and resulted in slightly less harvesting output. Damage on the island archipelago totaled $4,000, and no fatalities occurred as a result of Hanna.
The Bahamas
Edit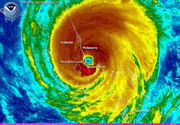 Elsewhere in the United States
Edit