Hurricane Gaston
Category 1 hurricane (SSHWS)


Gaston at peak intensity on September 19

---

Formed
September 17, 2040
Dissipated
September 20, 2040
Highest winds
90 mph
(1-minute sustained)
Lowest pressure
976 mbar
Damages
Minimal
Fatalities
None reported
Areas affected
Midwestern United States, Florida, Bahamas, Bermuda
Part of the
2040 Atlantic hurricane season
Hurricane Gaston
was an unusual hurricane that formed from an extratropical cyclone that developed over land in Ohio. It was the seventh named storm and third hurricane of the average 2040 Atlantic hurricane season.
Meteorological History
Edit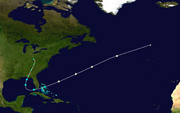 On September 15, an extratropical cyclone developed over Cincinnati, Ohio. Due to an unusual shift in steering patterns the cyclone was pushed southward over the next day. On September 16, the National Hurricane Center gave it a low (10%) chance of moving into the Gulf of Mexico and developing into a tropical cyclone. The cyclone continued to move southward, entering the Gulf of Mexico on September 17. Almost immediately after entering the Gulf of Mexico, warm waters and low wind shear allowed rapid tropical cyclogenesis, resulting in the classification of Tropical Storm Gaston at 18:00 UTC on September 17. At classification, Gaston had 50 mph winds with a minimum pressure of 1002 mbar. Due to a building ridge of High Pressure over the Southeastern United States, steering forces pushed Gaston out to sea. Gaston passed to the south of Florida as it began to turn northeast on September 18. Early on September 19, low wind shear and warm seas allowed Gaston to intensify into a category 1 hurricane. Gaston would go on to acquire a peak intensity with 90 mph winds and a minimum pressure of 976 mbar. At 00:00 UTC on September 20, Gaston became extratropical while still producing hurricane-force winds. Gaston's remnants rapidly weakened and did not reach Europe.
Ad blocker interference detected!
Wikia is a free-to-use site that makes money from advertising. We have a modified experience for viewers using ad blockers

Wikia is not accessible if you've made further modifications. Remove the custom ad blocker rule(s) and the page will load as expected.