Hurricane Alpha (2021)
Category 5 major hurricane (SSHS)
Alpha as a Category 5 passing Jamaica.
Formed
November 1, 2021
Dissipated
November 16, 2021(Ex-Tropical after November 14)
Highest winds
1-minute sustained:
165 mph (270 km/h)
Lowest pressure
895 mbar (hPa); 26.43 inHg
Fatalities
162
Damage
$1.45 billion (2021 USD)
Areas affected
Panama, Jamaica
Part of the 2021 Atlantic Hurricane Season
Hurricane Alpha
was a destructive storm of the 2021 Atlantic hurricane season.
Meteorological History
Edit
On October 30, a tropical wave emerged off the coast of Africa. Two days later, conditions allow it to become a tropical depression, according to Hurricane Hunters with 37 mph winds(35 mph estimated).It was numbered Twenty-Five. The depression rapidly strengthened, Hurricane Hunters estimated 85 mph, becoming Hurricane Alpha. Alpha became well organized and it reached its peak on November 10. Before landfall on November 11, the storm rapidly weakened to a 50 mph Tropical Storm.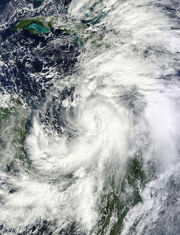 It made landfall in Panama. On November 16, it became a remnant low. Later, it developed to Tropical Depression Fourteen-E.