The DHTC is a weather center that rebranded from the DHC. it track all basin inlcuding hypotheitcal basins.
Atlantic
Edit
THE DHTC IS ISSUING ADVISORIES ON TROPICAL Storm Arthur nad Tropical Depression 02L, Arthur continues as it has peaked with 50 mph winds and will continue westward a rror with map happeend with tha track showing, also 02L has formed near the cape verde Islands and will rapidly intensify into a hurricane,otherwise no cycloned are likely to form ,forcaster Douglas, June 4, 2020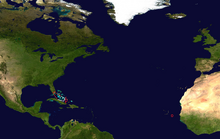 2020 names
Edit
Italic means high retirement chances. BOLD means active
Arthur
Bertha
Cristobal
Dolly
Edouard
Fay
Gonzalo
Hanna
Isaias
Josephine
Kyle
Laura
Marco
Nana
Omar
Paulette
Rene
Sally
Teddy
Vicky
Wilfred
Greek If needed.
Ad blocker interference detected!
Wikia is a free-to-use site that makes money from advertising. We have a modified experience for viewers using ad blockers

Wikia is not accessible if you've made further modifications. Remove the custom ad blocker rule(s) and the page will load as expected.