On December 25, 2295, the first ever flat ground "volcano" erupted. Despite all volcanoes actually erupt from mountains, this one was the first to erupt from flat land. However, a mountain had formed and was named "Mount Putin," which is named after the 2012 Russian president Vladimir Putin.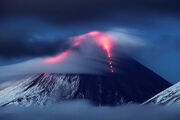 Here are some photos of "Mount Putin." (under construction)
Ad blocker interference detected!
Wikia is a free-to-use site that makes money from advertising. We have a modified experience for viewers using ad blockers

Wikia is not accessible if you've made further modifications. Remove the custom ad blocker rule(s) and the page will load as expected.