Confirmed
Total
Confirmed
F0
Confirmed
F1
Confirmed
F2
Confirmed
F3
Confirmed
F4
Confirmed
F5
Confirmed
F6
Confirmed
F7
1
0
0
0
0
0
0
1
'
2022 Victoria, Australia Tornado

The tornado on the outskirts of town
Date of tornado outbreak:
9-14-2022
Duration1:
2 Hours, 39 Minutes
Maximum rated tornado2:
EF6 (376 MPH winds) tornado
Tornadoes caused:
1
Damages:
$937.28billion (2022 USD)
Fatalities:
762
Areas affected:
Victoria

1Time from first tornado to last tornado
2Most severe tornado damage; see Fujita scale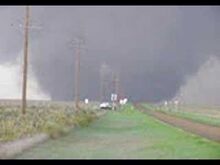 At 3:29P.M. September 14, 2022, a supercell spawned a rather large tornado. It hit hundreads of homes in the Victoria suburbs With winds up to 300MPH and a width of 2.9 miles, it was already the strongest and widest tornado in Australia history. At 3:45, it tore through the center of Victoria with winds topping 370 MPH and a width of 3.3 miles. Entire buildings were swept away as people scrambled to get to a safe place. The tornado left Victoria and surrondingg areas almost completely destroyed. Survivors struggle to get out of what was once their home. It killed exactly 400 people in Victoria and 363 elsewhere. It was the strongest, deadliest, costliest, and widest tornado in Australia's history.
Ad blocker interference detected!
Wikia is a free-to-use site that makes money from advertising. We have a modified experience for viewers using ad blockers

Wikia is not accessible if you've made further modifications. Remove the custom ad blocker rule(s) and the page will load as expected.