Confirmed
Total
Confirmed
F0
Confirmed
F1
Confirmed
F2
Confirmed
F3
Confirmed
F4
Confirmed
F5
10
6
2
1
0
1
0
2018 Madagascar Tornado Outbreak

Tornado in Morondava
Date of tornado outbreak:
5-5-2018
Duration1:
3 Hours
Maximum rated tornado2:
EF4 tornado
Tornadoes caused:
10
Damages:
$190million (2012 USD)
Fatalities:
4
Areas affected:

1Time from first tornado to last tornado
2Most severe tornado damage; see Fujita scale
On May 5, 2018, a supercell cycled through several small tornadoes. Then, at 11:39A.M., an EF4 tornado touched down near Belo. It slammed into Morondava with 250MPH winds. Amazingly, even though Morondava was leveled, only 4 people were Killed. Despite it's low death toll, it was still the one of the deadliest tornadoes in Madagascar history.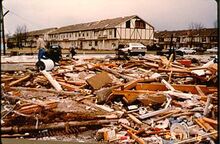 Ad blocker interference detected!
Wikia is a free-to-use site that makes money from advertising. We have a modified experience for viewers using ad blockers

Wikia is not accessible if you've made further modifications. Remove the custom ad blocker rule(s) and the page will load as expected.